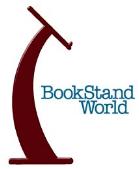 Home of the world's largest array of individually
handcrafted bookstands and lecterns
Proudly made in the USA


Bookstand World is a business, dedicated to the production of individual handcrafted products versus mass machined and third world imports. Operated by John M. Parker in Portland, OR, I specialize in custom handcrafted bookstands, lecterns and custom designed furniture. I do extensive historical research in order to produce authentic reproductions of world class products and antiques. An example would be the famous "Revolving Bookstand" and "Writing Desk" of Thomas Jefferson. Also, our replicas of "Antique Pedestal Gothic Bible Stands".
Please visit and enjoy my "Bookstand World" site, and peruse the large array of bookstands and lecterns and judge the quality of my work.
I welcome the opportunity to serve you in any of your needs, including creating custom designed products that you may have in mind.